Jayson Zilke on faith, hockey, and education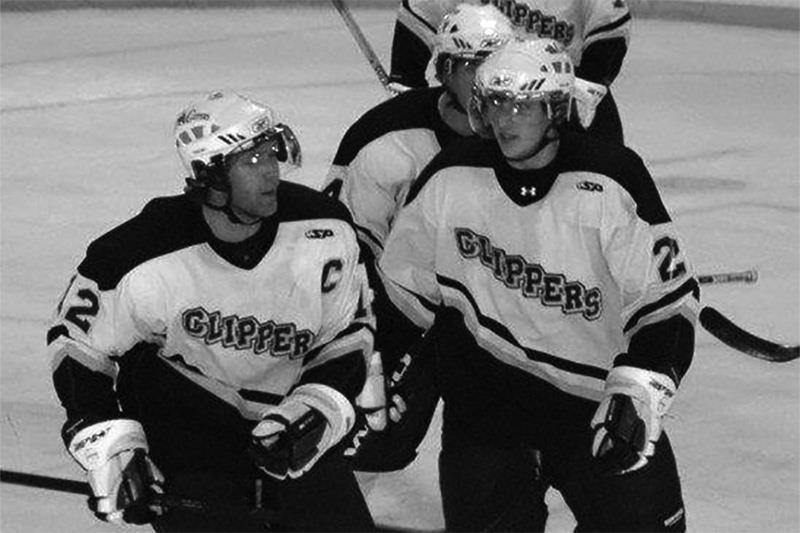 As players near the end of their junior hockey careers, many are faced with some important questions like what should they do and how can they continue pursuing hockey? Since these athletes have dedicated numerous years to the sport, finding opportunities beyond the junior level is intriguing. For many, playing college hockey is a popular option to extend their hockey careers; they are able to combine their passion for the sport and an education. Like many colleges these days, Briercrest is no exception to offering players both hockey and a degree. Over the years, Briercrest hockey has rostered a number of players who have come to campus in pursuit of these opportunities.
Former Briercrest player Jayson Zilke is one of those players who made the transition from juniors to college hockey. Although this transition took some time, it allowed Jayson the ability to build his extensive hockey career that includes playing Midget AA in British Columbia where his team won provincials and competing for the Jr. B Summerland (Sting) Steam where he boasted 50 to 60 points a season. However, it wasn't until after playing some exhibition games with the Seattle Thunderbirds in the WHL and "things not being quite right in my life at that point which probably affected my opportunity," that Jayson took the educational path and enrolled at UBC, effectively ending his career. During this time Jayson began talking with Briercrest's head coach at the time John Bechtold and friend Dave Cunning about the college and hockey program. Ultimately, Jayson transferred to Briercrest explaining, "it sounded like an intriguing opportunity to play hockey while getting an education."
For Jayson, attending Briercrest proved to be a great decision for several reasons. While attending school, Jayson was open to growing as a person and credits his time here as playing a foundational role in his faith journey and as a result, his passion and purpose for the game was renewed. As he explains "the opportunity to battle and sweat with teammates on the ice who also desired to grow in their faith and genuinely cared for each other was a huge part of the unique experience that Briercrest offered." Furthermore, he pointed to the "great leaders within the school who built into my life" as well as how "awesome it was to be a mentor to younger teammates and high school players." In all, he explained that while there are great people everywhere, nowhere else has he felt that people truly care about you than the Briercrest community.
In addition to his faith, Jayson also came with a great attitude as an athlete, desiring to be the 'hardest working player' on the team and to 'lead by example' which was rewarded. During the course of his 5 seasons, Jayson amassed 134 points and was the team's points leader for 4 years; he also served as the team captain for 2 years. Overall, Jayson has some great memories as a Briercrest athlete and is very "proud to be the first team to make playoffs in Briercrest history and play a role in impacting the program in a short period of time." Jayson continued his hockey career after Briercrest where he went on to play in the ECHL for the Kalamazoo Wings, the SPHL and pro hockey in Europe for Asnieres in the French Professional League.
Looking back on his hockey career as a whole Jayson commented "I played on great teams before and after Briercrest at high levels, but the Clipper team was absolutely my favourite because of the people and faith element." Beyond giving him an opportunity to grow as a player, the experience also helped develop his ability to "handle many things and overcome adversity." Jayson acknowledges that Briercrest offered him more than just another opportunity to play hockey, it was also a place that he says, "helped us understand that you can make a difference in your team, school and work place." There are the lifelong qualities that he has taken forward in his life, family, community and business. He hopes that many more players will come to understand and see the opportunity that is offered at Briercrest and take full advantage of it.
Jayson is a part of a great group of Briercrest Hockey Alumni who are continuing to have an impact in the world and excited to build into future generations in the Briercrest hockey program. He is currently living in Kelowna, BC with his wife Erin, son Micah and daughter Amara. He has used his Briercrest business degree to grow a startup financial technology called Refresh Financail.