Speaking to the Promise of the Future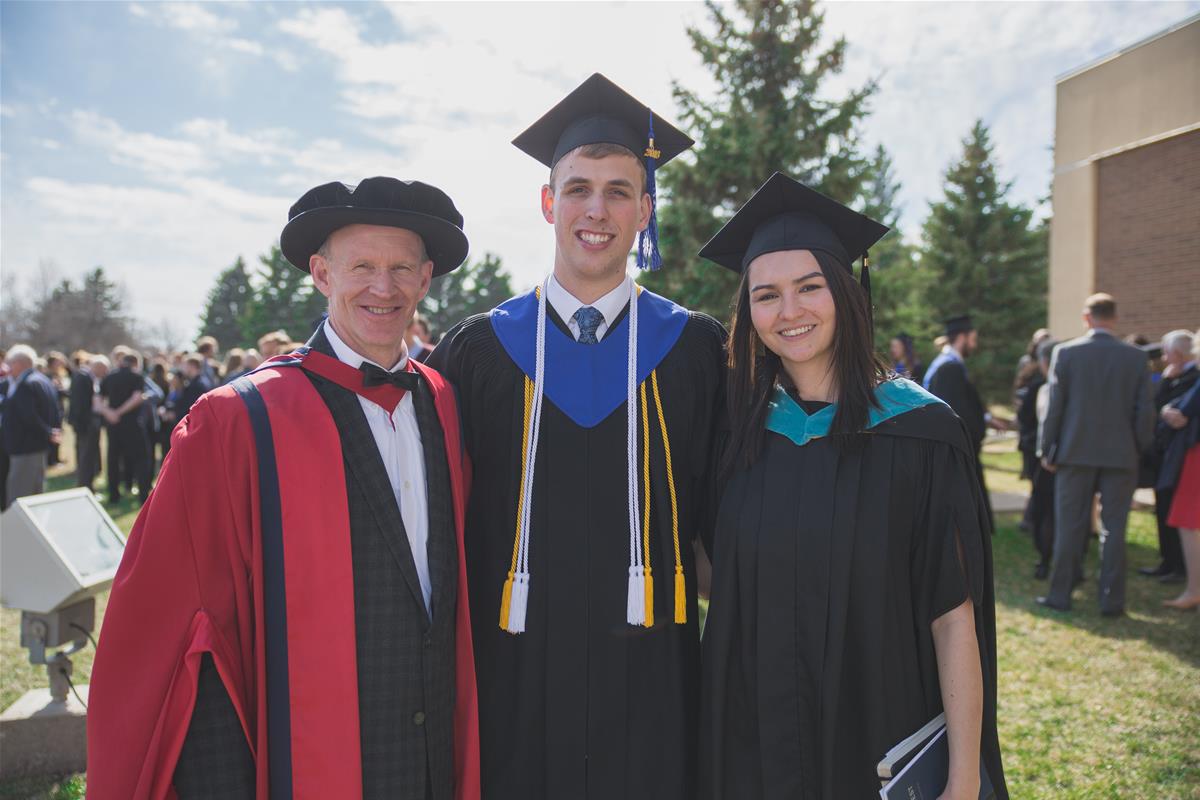 When Jason Wendel first started attending Briercrest College and Seminary, his focus was on playing volleyball.
Now four years later, having graduated with a Bachelor of Arts in Biblical Studies with a 3.99 GPA, his outlook has shifted from his time spent at the school in Caronport.
"I was thinking, 'I'm going to play volleyball here. That's my main focus.' I wanted to play with my brother. He was on the team at the time. So I came in and was focused on that and it was really sweet. I spent three years on the Briercrest volleyball team and that was excellent," said Wendel, "but the biggest thing for me was the school, to be honest. I fell in love with studying and learning about liberal art. I got into literature and reading.
"I came out the other end with this huge appreciation for what the Bible is and just the study and the love for that."
The Caronport native, who previously attended Caronport High School, was Briercrest's valedictorian.
"When they told me I was going to be valedictorian, I was very excited," said Wendel. "I mean, it's just a big honour to be able to speak at an important time of transition for all the grads and at the same time, I guess I just feel the responsibility of that."
The Briercrest grad spoke at the 2016 Commencement in the Hildebrand Chapel on Saturday. The day before, he said he wanted to reflect on time spent at Briercrest and to encourage and challenge his fellow students.
"I really want to send people out just thinking about how this time has changed their lives, how they can be thinking about their future, how they can be just thinking about the changes that have taken place here and how that will shape their future," said Wendel.
Having played with the men's volleyball team, sports has played an important role, both in a practical and a community sense.
"It's just a good support system to be with a group of guys that you know you can trust, you're working together," said Wendel. "The other side too is just the nature of sports the way they are. They challenge you. They push you. I feel like I learned a lot about myself, who I am. It's commonly said that sports show you the best and worst of yourself."
A highlight for him was in his second year when the team hosted nationals in Moose Jaw at YaraCentre.
"That was just a huge event. Our school came out and supported us. That's going to be a lifelong memory for me," said Wendel.
As for what his future holds, he isn't 100 per cent sure yet.
"For me a big thing is, 'Do I want to go to school or do I want to take a couple years off and do something else and then go back to school?' I think school's down the road, but it's just about when and how," he said.
He is hoping sports will continue to be part of his future. During his time playing sports, he had a lot of injuries and he's unsure if he'll be able to maintain that at a high level.
"I've actually really gotten into coaching during my time here and in my fourth year here, I wasn't playing. I was actually one of the assistant coaches with the women's team," said Wendel. "I've gotten a lot of certification for that. I'm excited to see the ways that maybe I can transition more into a coaching role and continue to do that for the rest of my life hopefully."
Written by: Lisa Goudy
Read the original article here.