A Dedicated Cheer
Posted: February 27, 2015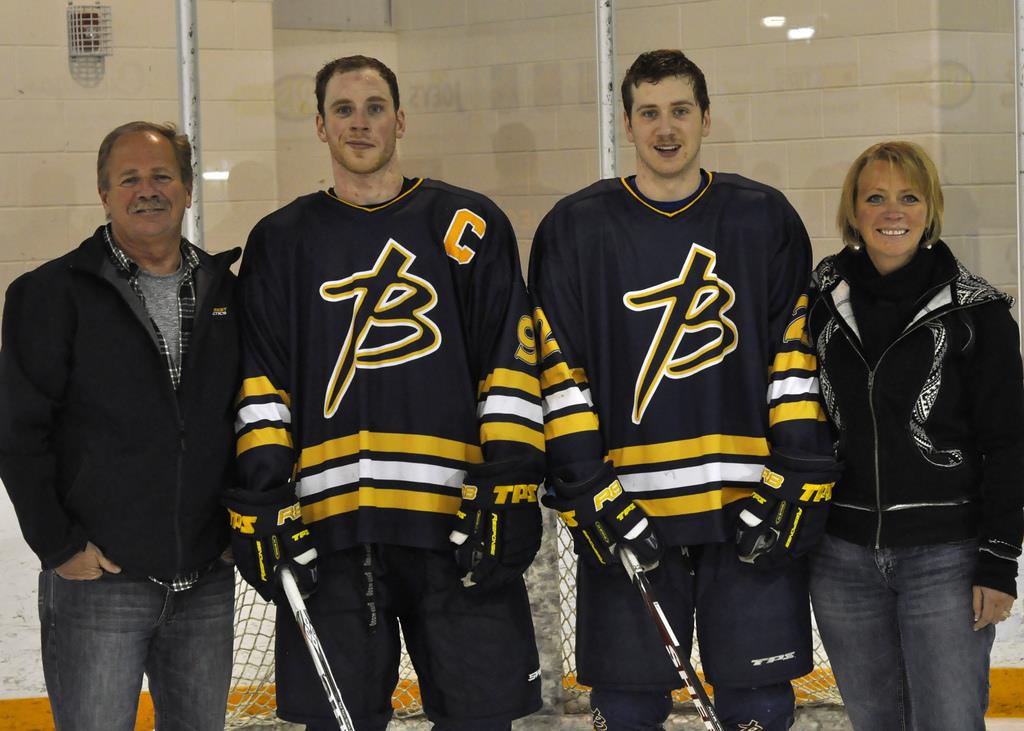 Growing up on a family farm in Boissevain, Manitoba, with sub-zero winters and a reliable younger brother acting as side-kick, playing hockey was inevitable for Josh Dueck. He started playing the sport at just five years old and it would be fair to say that Josh spent his childhood on skates. And his adulthood too. After graduating from high school, and encouraged by his youth pastor, Josh enrolled in the BA Business Administration program at Briercrest College. Josh quickly becoming an integral player in the Clippers hockey program.
Josh's parent's, Ben and Marg Dueck, rarely missed an opportunity to cheer on their son during his time playing for Briercrest. Almost every home game, the couple would brave the drive from Manitoba to Saskatchewan in order to support their son and the team. The strength and encouragement they brought were fuel for every Clipper player, and Saturday morning pre-game breakfasts became a Dueck family ritual that everyone looked forward to.
After his time at Briercrest, the young Dueck picked up his skates and moved to Sweden to work with Hockey Ministries International, a Christian organization that runs hockey camps. Although this was supposed to be a very exciting time in Josh's career, the cheering suddenly stopped. Shocking news came from Canada and the ice beneath the Dueck family shook. Marg was diagnosed with an incurable degenerative disease that results in the progressive death of nerve cells. "It was hard to wrap your head around it and what it all meant," recalls Josh. But this heartbreaking news drew a supportive response from Josh and the rest of his siblings. Trading in his skates for a plane ticket home, Josh jumped back into life on the farm to help his faithful dad care for his mother.
Growing up in a faith-centred home, Josh remembers the sudden illness of his mother provoking him to think deeply about his Christian beliefs: "It made you investigate your faith a lot more, it was no longer just a prayer you pray when you are younger … it purifies a person's faith." And his faith, along with the rest of his family, certainly faced challenges as Marg's health deteriorated. The disease slowly took over mobility, body functions, and speech.
In a reversal of roles, Josh (and his siblings) became the support to Marg that she had been to him as he played Clipper hockey. Alongside their ever devoted father, the Dueck children became Marg's dedicated fans. It was now Marg who needed the fuel of care and encouragement. Yet in the midst of unrelenting pain, Josh describes his mom with pride, "I think the biggest thing that we all notice is joy. She never complains in the suffering … she is always putting others above herself in a tangible way." Despite even her illness Marg still cheers on her family.
It was with this kind of spirit and heart that Ben and Marg Dueck were compelled to give even in the midst of suffering. They recently initiated and funded the Dueck Family Leadership Award for student athletes on the Briercrest men's hockey team. Josh was not surprised: "Dad and mom enjoyed the hockey program and seeing the relationship between the guys on the team … how many guys' lives were impacted by it." The Dueck family hopes that these two awards will be a way to assist in building up the program, transforming lives, and having an impact on the hockey community. The Duecks will generously offer two $1,500 awards each year, one for a freshman student and one for a returning student.
Remarkably, the members of Dueck family have become Marg's limbs, acting as an extension of her heart for serving others. But perhaps more extraordinarily, the incurable illness has done little to deter her husband's love and her family's faith in the Lord. As Josh observes, it is hard not to be touched seeing the way his parents have held on to this 'unshakable hope.' No matter the cost Josh and the Dueck family are a constant reminder of 2 Corinthians 12:8-10: His grace is sufficient. Let's all join Marg in a life of prayerful and thankful cheering.