Women fall to Fanshaw in final match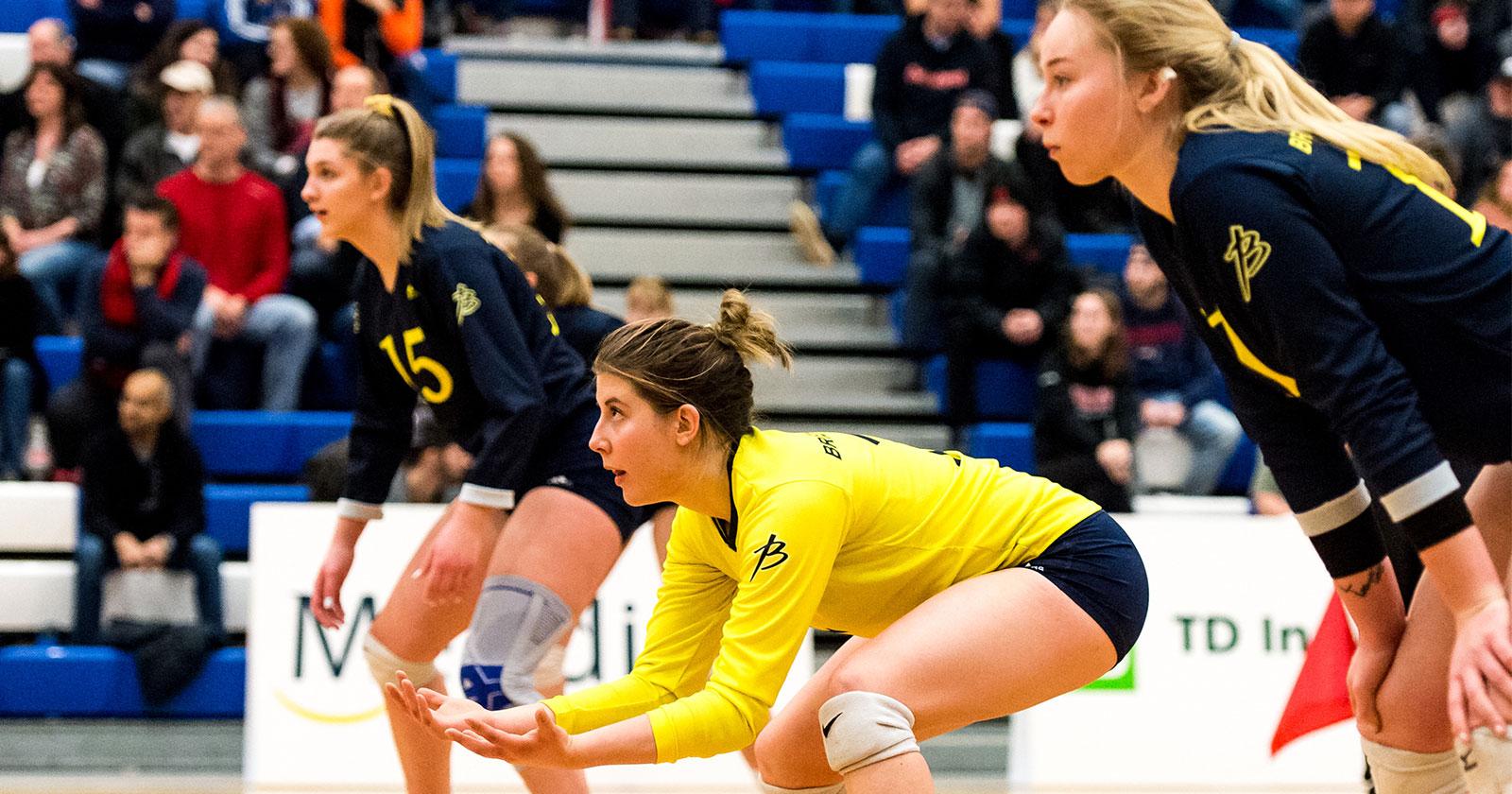 Welland, ON: After beating the Douglas Royals earlier in the day, the Briercrest women's volleyball advanced to the Bronze Medal game. This was not the first time the women had found themselves in this position, five years ago they placed 4th at Nationals. This was their redemption match as they took on Fanshaw College in the final game of their season. Fanshaw who finished 1st in their conference, had an impressive 22-0 record coming into the season which was shown as they beat Briercrest 3-0 (25-19, 25-18, 25-22) to capture the Bronze Medal.
The match started off with Briercrest's #12 Justine Collin making three exceptional serves to put the team ahead of Fanshaw by 3-points. However, Fanshaw was right behind them and quickly took the lead after a few bounces off Briercrest at the net. Halfway through the set with Fanshaw still leading, Briercrest took a couple time outs to regroup as they were down 22-18. Unfortunately, Briercrest struggled at the net to block Fanshaw's hitters and the set ended with them losing 25-19.
The beginning of the 2nd set was similar to the 1stwith Briercrest leading the way. Briercrest's #12 Faith Buhler was able to capitalize on a couple out of bound hits on Fanshaw to slowly take the lead again (4-0). Once again though Fanshaw made a steady comeback as Briercrest struggled to penetrate Fanshaw's outside hitter #9 Janelle Albert. As Fanshaw increased their lead by 6-points nearing the end of the set, Briercrest made multiple substitutes to change the pace of the match. Fanshaw won the set 25-18 after a service error from Briercrest.
Heading into the final set, Briercrest was looking to clinch this set to remain in the match but with Fanshaw's continued strength at the net, Briercrest began to fall behind. After taking a significant jump on the scoreboard over Briercrest, Fanshaw started struggling to communicate on the court. This allowed Briercrest's #3 Becky Garner and #10 Mikayla Benterud to sneak in a few kills down the middle and side lines. While it looked like Briercrest was going to make another comeback in the 3rd set, Fanshaw finished the set 25-22 with a kill.
Player of the game was #2 Kirsty Kindrachuk who was also named as a 2ndTeam All-Star. #3 Becky Garner was also awarded with the Chuck Gullickson Exemplary Leadership Award.
The women finish their season achieving a silver medal in their conference, 4thin the nation and a record of 20-4 in regular season and 4-3 in post-season.