Shane Sowden: Men's Basketball Head Coach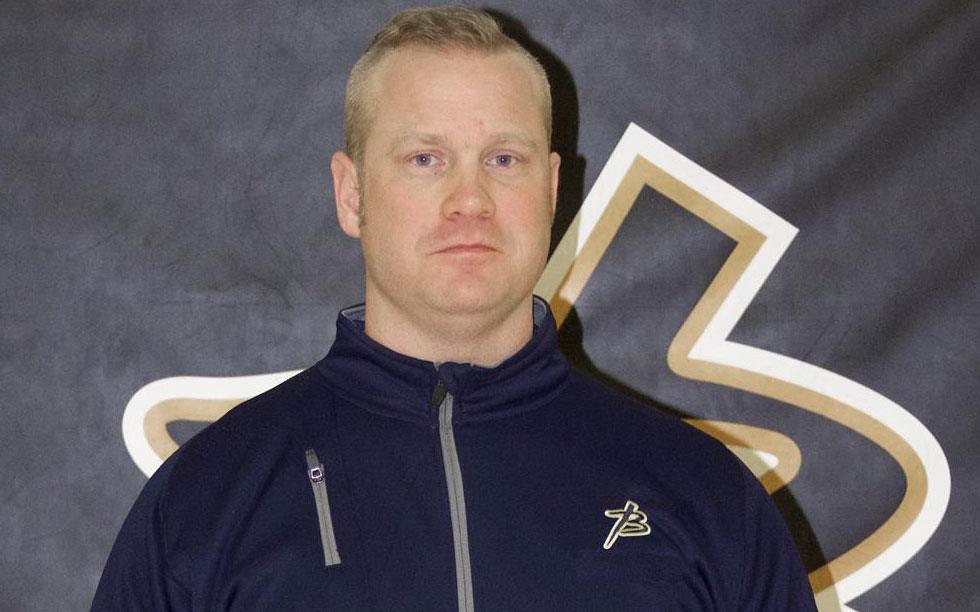 Briercrest Athletics is proud to announce the hiring of Shane Sowden as the head coach of the men's basketball team.
Briercrest Athletic Director Nigel Mullan is looking forward to having Sowden join the coaching staff this year.
"We are excited to have coach Sowden step in as the next head coach of the men's basketball program at Briercrest. We believe that with his skills in recruiting and connections throughout Canada he will be able to take the program in a competitive direction. Along with his skills and abilities, Coach Sowden brings an enthusiasm and passion to this role and I believe his contributions will be big for the program."
Sowden will be bringing a lot of experience to the men's program this fall with his years not just as a coach but an athlete as well. Spending most of his childhood in sports, Sowden was competitive in basketball and baseball. In the summer of 1997 he was a member of the Canadian National Junior Baseball team that competed at the world championships. That year he was recruited for both basketball and baseball at the post secondary level but eventually went on to receive a scholarship for baseball at Northwestern State University in Louisiana and Central Missouri State. He explains, "my experience playing Division I and II baseball in the States has helped shaped me as a coach and what it means to compete at the highest collegiate levels. I was fortunate to play for and learn from a number of up and coming coaches who are now head coaches at major Division I programs down south."
Although coaching the men's team will be a new position for Sowden, it is not the first one he has held in the Briercrest Athletic department, he previously coached the women's basketball team for 4 years. In all, Sowden has coached 12 years at the high school level and 4 years at the college level. Currently, Sowden is finishing his season with the Caronport High School boys' basketball team who are currently ranked as the #2 team in the 2A division in the province.
Sowden is a native of Moose Jaw, but has always had a strong connection with the Caronport community which began at an early age when his dad attended Caronport High School and while living in Moose Jaw, his family would frequently visit Caronport. Sowden attended Central Collegiate in Moose Jaw who had quite the rivalry with Caronport High School over the years. The connection with Briercrest continued to grow when he worked summer basketball camps and later hired in the high school in the fall of 2005. Sowden was the head coach of the Briercrest Women's Basketball program from 2007-2011 and although he was not coaching at the college level the past 7 years the desire to coach at the college level again someday was always in the back of his mind. "I have always felt I wasn't finished coaching at the college level when I stepped away the first time. In my mind, it was only a matter of time before I would look for another opportunity to coach in the ACAC. After a season of prayer and being open to God providing a new opportunity, the job posting came up and I felt strongly that now was the time to go for it."
While the start of the season is still a few months away, Sowden is optimistic about the fall and has already begun preparing. He is looking forward to the challenge of recruiting and building a long term sustainable program. "The best part of coaching is the opportunity to develop relationships and build into young men. Being a student-athlete at Briercrest is the perfect atmosphere for young men to learn what it means to be shaped by the Scriptures in preparation for lives of service. Being part of a team is a special opportunity where members of that team will develop life-long relationships and be in an environment supportive of spiritual, academic and athletic growth."
Currently Sowden is the Vice Principal and teacher at Caronport High School and while these different roles have provided him with a variety of experience, he is looking forward to transitioning into a full-time coach position. As a full-time coach he says, he can focus on the team and program year-round and begin making this a long-term position. As he explains, "the head coaching role at Briercrest has changed quite a bit since I was last a part of the department. I am extremely excited and grateful to be able to focus all of my time and energy on the program. Briercrest has a long and storied history of success in the CCAA, ACAC and PAC conferences. It was only a few years ago that the program was one of the top in the country. Briercrest alumni are spread out all over the globe who desire to see the program not only grow and influence the student-athletes off the court but on the court as well. I look forward with anticipation to connecting with the many valued and appreciated alumni in my new role."
Sowden resides in Caronport with his wife Amanda and three kids; Caleb (10), Maclean (8) and Hudson (7). He holds a Bachelor of Science in Physical Education from Central Missouri State University and in April will complete his graduate studies from Briercrest Seminary with a Masters of Leadership and Management degree.
For more information on Briercrest Athletics, follow us on Facebook or at gobriercrest.ca. For more information on the Briercrest Men's Basketball team contact Shane Sowden at (306-630-9744; ssowden@briercrest.ca) or fill out the an online recruitment form.