Player Spotlight: Victoria Voth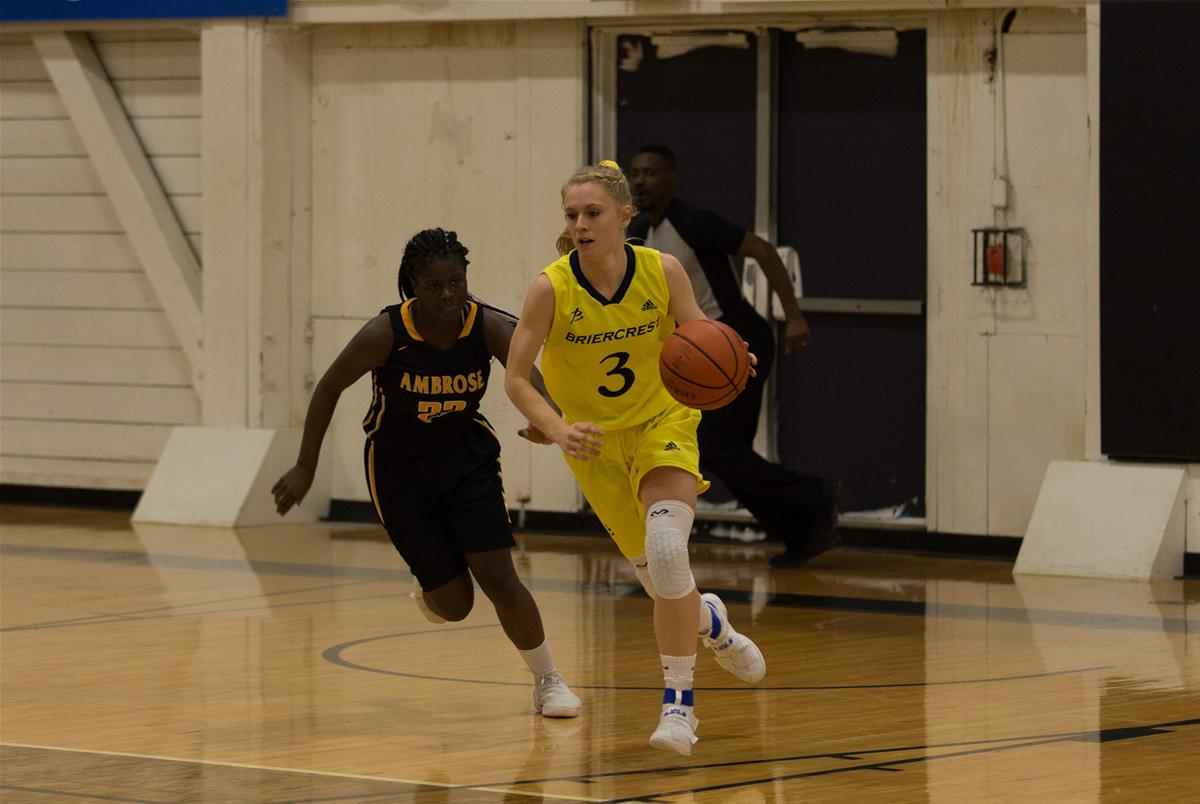 With the basketball season wrapping up in just a couple weeks, Briercrest's women's team has been working hard this season with a number of wins and some close games with top schools. A part of this driving force is 3rd year veteran forward and co-captain Victoria Voth. As one of the few returning players on a team with 8 freshman this year, Victoria has been able to bring her 12 years of experience in basketball to the program.
Even though her and her sister are the only members of their family who play basketball, Victoria developed a passion for the sport early on. Her interest first began when her mom placed her in a Friday night league in grade 3 and from there it continued to grow through high school. After playing for the junior team in grade 9, Victoria moved up to the senior girls' team in grade 10 and 11. However, her years playing high school basketball almost come to an abrupt end when the women's program was cancelled just before her senior year. Not wanting this circumstance to hold her back, Victoria tried out and made the boys' team in grade 12 as point guard, allowing her to play out her four years. Her time playing high school basketball has no doubt contributed to the growth in her skills that she has brought to Briercrest's program.
When it came time to choose a college in grade 12, she had a few opportunities in Canada and the US. Although these other schools would have offered her basketball and a good education, she says finding a Christian higher education school was more important. During her time in grade 12, she had come back to her faith and began growing her relationship with God again which is what ultimately lead her to search for a Christian college. So, after seeing how Briercrest impacted her brother Adam who played on the hockey team, it motivated her to look into the women's basketball program. Victoria contacted Briercrest athletics about the team and as she says, 'everything just fell into place and worked out.'
During her time here, Victoria reflects on the support she has gotten from the school and her friends during some difficult times she has faced. She also credits Briercrest's bible classes, especially in her 3rd year for helping her to learn more as a Christian and appreciate a lot more when it comes to faith and her relationship with God. Similarly, she expresses that the team has pushed her to grow as an athlete as well and being here longer than just a year or two, she also wanted to be a change for the team.
As for her future plans, after graduating next year with a degree in General Studies, Victoria would like to attend Mount Royal in Calgary and earn an Athletic Therapy certificate and pursue her dreams of being an AT. When Victoria is not on the court, you can see her behind the play during other varsity games volunteering as an AT. Besides basketball, she also enjoys being close to the water, playing beach volleyball, swimming and kayaking.