Women move on to Bronze medal at Nationals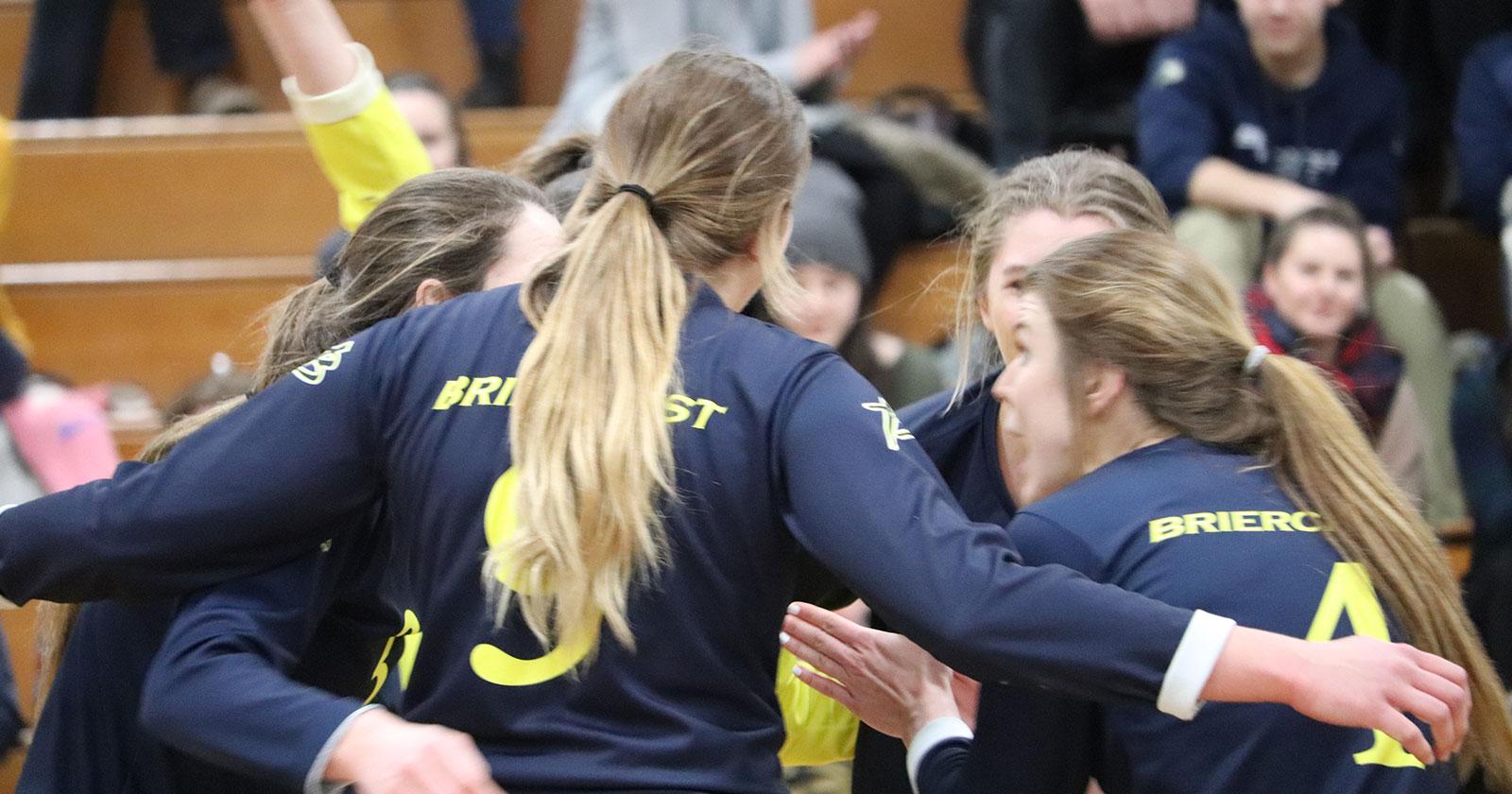 Welland, ON- The women faced off against the Douglas Royals in their third game of the CCAA tournament. This is not the first time Briercrest had meet the Royals, the team travelled to BC in September for pre-season competition. The girls were looking for a rematch after losing the pre-season game to the Royals 3-2 and achieved their victory after beating them 3-1 (25-19, 25-18, 22-25, 26-24) to advance to the bronze medal game.
Starting off the 1stset, Briercrest took a 3-point lead but the Royals answered back, catching up to tie the set at 6. After a few service and net errors on Briercrest, the girls quickly recovered and put the Royals in a 5-point deficit. Moving closer to the end of the set, Briercrest had the match point, but the Royals would not give up and added a couple points to stay close. The set ended with a Royals pass hitting out of bounds and Briercrest winning 25-19.
The beginning of the 2nd set was similar to the 1stwith Briercrest cruising to a 9-point lead. Briercrest was relentless on the Royals as they peppered their libero steadily through the match. Briercrest's setter #4 Ashley Erickson who finished the match with 38 assists and 8 digs was strong in the set, using her dives to save low hits from ending the rallies. While Briercrest remained the dominating team here, the Royals once again fought to stay in the match. Briercrest's #9 Mia Harder ended the set with a kill to take it 25-18.
Moving into the 3rd set, the Royals were looking at elimination and were determined to not let Briercrest walk away with the match. The set was a tight match, both teams trying to get ahead of the other. After back-to-back blocks from the Royals, the team put themselves only 1-point behind Briercrest (13-12). The Royals continued to control the set and dominate at the net with their blocks to win 25-22.
Heading into the 4th set, the Royals had a newfound confidence that kept them in the match. After multiple out of bound hits on both sides, Briercrest was able to regain their lead and stay ahead of the Royals by 3-points. To end the match, #11 Justine Collin's service ace bounced off a Royals' player and out to win 26-24. Player of the game was #9 Mia Harder who finished the match with 13 kills and 11 digs.
The girls moved on the bronze medal game against Fanshaw College at 6pm.