New Partnership with Biola Provides Exclusive Pathway to MA TESOL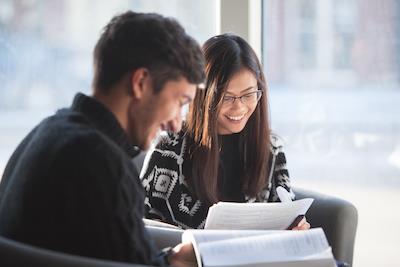 Briercrest has partnered with California's Biola University to create a pathway that allows Applied Linguistics: TESOL students to complete both their BA and MA TESOL degrees in just five years. The 4 + 1 program combines Briercrest's four-year BA with a one-year accelerated MA from Biola to be taken at any point after graduation.
Briercrest TESOL professor Darren Gordon is thrilled about this new partnership. "It opens up an incredible number of opportunities. The MA is, in a sense, the new BA for the profession of English language teaching. It's crucial for entry into work and life in a lot of international contexts, and even here in Canada."
The 4 + 1 program is a partnership of two like-minded degree programs. David Catterick, Briercrest TESOL program leader, is excited about the partnership's ministry focus. "That's the heart of our program; that's the heart of their program. In effect, by giving them students, we're giving Biola opportunities to further train our students and then propel them into ministry around the world."
The two schools also share a common approach that integrates faith and applied learning into TESOL training. The goal is to provide students with the skills needed to serve in strategic contexts abroad.
"Like us, Biola is saying, 'There are so many opportunities worldwide; we just need the students,'" Catterick says. "Effectively, they're borrowing our students, enhancing their qualifications, and then our students are going out with the contacts that Biola has and the recognition of the Biola name."
This new pathway facilitates a seamless transition from one training program to another. The compatibility between both degree programs also proves something that Briercrest students have always known: Briercrest TESOL promises comprehensive, high-level academics—and delivers on these promises.
Find out more about the TESOL MA partnership.
Find out more about Biola's MA TESOL.