Building bridges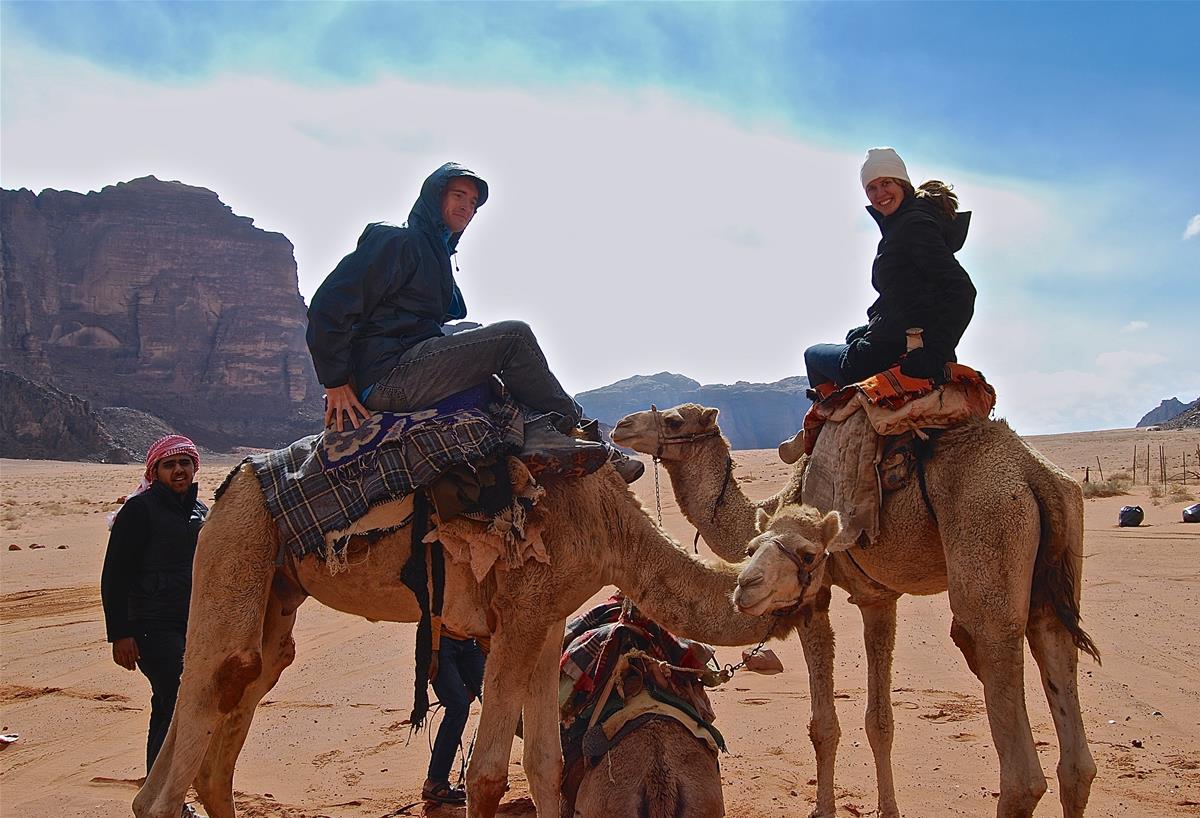 Kurtis and Kelsey Hoff have dreamed about moving back to the Middle East, and in October, it will become a reality. They each have spent time there separately before they were married, but now the couple will be returning together, new degrees in hand, with hopes of investing deeply into cross-cultural relationships and bridging the gap between Arabs and westerners.
Kurtis and Kelsey initially plan to move to Jordan and enrol in language school to study Arabic.
"We want to become proficient in the language to enable us to engage the culture more deeply… We feel that it's really important to equip ourselves with that in order to be able to engage society at a deeper level," Kurtis explained.
Both Kurtis and Kelsey have previously studied Arabic and are able to converse on a practical level.
"[But] we want to be able to go deeper—talk about concepts, ideas, and faith; overall, inter-religious dialogue is really a big passion for both us," Kelsey said.
"A language is the mouthpiece of a culture," Kurtis added. "We want to know how the values add up, and why things are done this way. The syntax and idioms of a language all point to 'that's why they behave this way.'"
Intercultural communication is a passion that Kurtis and Kelsey share and was something that continually brought them together. The two met in grade 12 at Caronport High School and became friends. Even though they were often in different parts of the world after high school, their paths crossed every summer while on the same tree planting crew, and they would keep in touch during the time in between.
"Usually one of us was either studying, or one of us was overseas doing something. So we would always swap a lot of stories," Kelsey said.
"We had been talking while I was in Jordan. Kurtis was [at Briercrest] and he was doing a lot of Islamic studies and intercultural communications. So I was someone who was doing what he was studying," Kelsey explained. "Through those conversations, I told Kurtis about a semester abroad program I had done in Jerusalem in my undergrad and how great it was."
Excited about Kelsey's experiences, Kurtis went to Jerusalem to study for a semester. "Briercrest prepared me really well for that," explained Kurtis. "The classes I took with Alan Guenther, and Cross-cultural Communications with Dr. Catterick, prepared me to engage that program wholly; it was a really enriching experience."
Many people are surprised when they hear about the Hoffs' plans to move to Jordan, but Kelsey recalls many instances throughout her life that have brought her here.
"I've been inexplicably fascinated by the Middle East since I was young," she said. "I think it's partially because I've always felt that there were a lot of assumptions made about that part of the world. And since I was young, I've always had an eye out for the misunderstood and the minorities. Not necessarily only ethnic minorities, but people on the margins of society. I've always been bothered by the assumptions that are made about eople who are different. So one of those, for me, was people from the Middle East. I don't think what you see on the news is everything, but no one is reporting that."
Throughout her undergraduate studies at Trinity Western University, Kelsey strategically tailored her assignments to fit with her interest in intercultural communications, Muslims, and women's issues. Her involvement with the international student program on campus also helped her realize her special interest in Arabs.
"My friend group on campus was very multi-cultural, which I found so enriching and valuable; however, there was something about my friends from Saudi Arabia that sparked a higher level of interest in me—like a small fire burning inside of me that needed to be fed," she said.
The friendships Kelsey developed with the Saudi Arabian women continued to stir her heart and deepen her interest in Arab culture.
"I studied abroad in Jerusalem and through this experience came to affirm once again that I need to engage Arabic language and culture further," Kelsey said. "After graduating with my BA and working in a tree planting camp for the summer, I went independently to Jordan and studied Arabic full time at a school and with a private teacher."
For Kurtis, his journey to Jordan was less direct. The pull to the Middle East was developed through courses he took at Briercrest and his relationship with Kelsey. Before that particular geographic pull, Kurtis had plans to immerse himself in another culture with hopes of becoming proficient in the language.
"I love modern languages," he explained. "I love participating in other cultures. One of my passions is intercultural communications—that and religious dialogue. Those are the two things that are driving me."
While Kurtis and Kelsey are initially moving there to study Arabic language, they want to eventually get jobs in Jordan with goal of investing in and meeting needs in the community. Kelsey hopes to someday use her counselling degree to fill the need for mental health services in Jordan.
She has a specific interest in the mental health of expats living overseas, whether missionaries, humanitarian aid workers, or military people. She plans to find ways to use her counselling skills in some way, possibly through offering online counselling services for people who do not have easy access. Kelsey also has interest in teaching, although she is unsure of in what capacity.
Kurtis' degree is less specific to filling a particular need, and more about providing an opportunity to make connections with Jordanians and invest in the community.
"Since my degree is concentrated in History and Global Studies there are a variety of job opportunities that can be potential avenues," he said. "Being proficient in Arabic may enable me to work for Canadian embassies and consulates in the region. There are also a large variety of Non-Government Organizations and International Schools in Jordan where I may be able to find work in administration, tutoring, or humanitarian work. Ideally, I'd love to be there, identify a development project, partner with Jordanians, and start a business that creates jobs. Then when it's time to leave the Middle East, my Jordanian partners can take over our work and there will be a lasting communal development that transcends the period of time I will invest in the community."
"As long as I'm living there, learning the language, investing deeply into cross-cultural relationships, I want to get to the point where I'm able to engage in a lot of inter-religious dialogue—whether it be with Arab Christians or Muslims. I just really want to invest in that community. The work is meant to allow me to stay in the country. It's kind of a means to an end."
Kurtis and Kelsey liken this step of faith to diving off a diving board.
"We have these ideas; we have these hopes, and ambitions. Are they going to work out? I don't know. That's part of the faith we're taking in going," Kurtis said.
Although they are unsure of what is in store after this coming year of Arabic study, Kurtis and Kelsey see it as a beneficial and worthwhile endeavor, regardless of whether it is just for a year or longer. Not only is the experience extremely enriching, but knowing Arabic and having the cultural insight can help them to be bridge-builders here in Canada between newcomers and locals.
They are passionate about being a voice for Arabs here in Canada and taking a stand against assumptions made about them.
"I lived there. I have relationships with them and I'll stand firm that that's not who they are,'" Kurtis said.
"I have Muslim friends and they feel completely mortified that what they see on the news is representing Islam to the west," Kelsey added.
"We're doing this because we're fighting against prejudices and predispositions," Kurtis said.
Kurtis and Kelsey want to help Canadians gain a better understanding of immigrants and work to create a culture that is more hospitable. They also desire to help newcomers live well in Canada.