Tzu-ching Chiang,
PhD
Assistant Professor of Psychology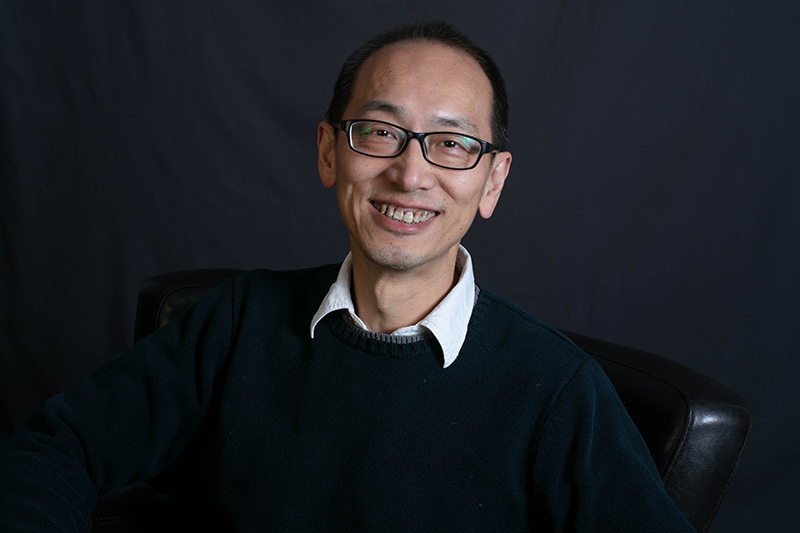 [javascript protected email address]
306.756.3385
Teaches:
Experimental Psychology
Cognition
Sensation and Perception
Biopsychology
Statistics
Research Methods
Behavioural Modification
Tests and Measurements.
The fear of the Lord is the beginning of knowledge, but fools despise wisdom and instruction (proverbs 1:7, NIV) Trust in the Lord with all your heart and lean not on your own understanding (Proverbs 3:5, NIV)
Teaching Philosophy
Dr. Chiang worked in several countries renowned for their cultural diversity. Some of students were mature and had work experience. It makes his teaching style close to the connected curriculum, linking knowledge and concepts to students' and environment, as well as his research being a part of teaching material. His teaching focuses on the true understanding of concepts, not just superficial definitions and memorization. Dr. Chiang likes to stimulate students' thinking and encourage discussion in class. He will adjust teaching paces in due course, depending on students' learning progress. In assessment, Dr. Chiang focuses on the learning progress with multiple assignments in different formats.
Background
Dr. Chiang completed his Ph.D. in Psychology at UCL and continued a post-doctoral training at UCL, too. His training and teaching lie in the scope of Experimental Psychology. The courses he has taught include Biopsychology, Sexual Differences in Neuroscience, Cognitive Psychology, Sensation and Perception, Behavioural Modification and Learning, Experimental Design, Research Methods, Statistics, and Introduction to Psychology.
Education
Ph.D. in Psychology, University College London, UK
Research
Feature integration
Bimodal tasks
Illusion perception
Decision making
Attention
Publications
2017 Nucera, A., Azarpazhooh, MR., Cardinali, L., Alsubaie, R., Chiang, TC., Weishaupt, N., Hachinski, V. Inhibition of the primary motor cortex and the upgoing thumb sign. eNeurologicalSci, 8, 31-33.

2014 Chiang, TC., Lu, RB., Hsieh, SL., Chang, YH., Yang, YK. Stimulation in the dorsolateral prefrontal cortex changes subjective evaluation of percepts. PLoS ONE, 9(9), e106943.

2013 Chiang, TC., Liang, KC., Chen, JH., Hsieh, CH., Huang, YA. Brain deactivation in the outperformance in bimodal tasks: An fMRI study. PLoS ONE, 8(10), e77408.

2013 Chiang, TC., Wu, CJ., Hsiao, S., Liu, GC. Cognitive behaviors and neural bases of geometrical categorization. Bulletin of Educational Psychology, 45(2), p141-156.

2013 Chiang, TC., Chen, JH., Liang, KC., Cheng, CP., Hsiao, S., Hsieh, CH., Huang, YA, Li, CW. The neural basis of feature binding of color and motion. Journal of Behavioral and Brain Science, 3, p57-66.

2007 Chiang, TC., Vaithianathan, T., Leung, T., Lavidor, M., Walsh, V., Delpy, DT. Elevated haemoglobin levels in the motor cortex following 1Hz transcranial magnetic stimulation: A preliminary study. Experimental Brain Research, 181(4): p555-560.

2005 Chiang, TC., Lavidor, M. Magnetic stimulation and the crossed-uncrossed difference (CUD) paradigm: Selective effects in the ipsi- and contra-lateral hemispheres. Experimental Brain Research, 160, p404-408.

2004 Chiang, TC., Walsh, V., Lavidor, M. The cortical representation of foveal stimuli: Evidence from quadrantanopia and TMS induced suppression. Cognitive Brain Research, 21, p309-316.

1998 Liang, KC., Tsui, KY., Tyan, YM., Chiang, TC. Buspirone impaired acquisition and retention in avoidance tasks: Involvement of the hippocampus. Chinese Journal of Physiology, 41, p33-44.